Welcome to week 8 of A Wife's Secret to Happiness Book Blog Tour! How have you been enjoying the book and blog tour so far? I would imagine you are feeling inspired and encouraged like I am. This week Chellbee is sharing on Chapter 8. She has some great thoughts and encouragement for us on her site. We'd love to hear how your journey through this book has been so far!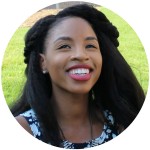 Chellbee is a daughter of Christ, wife, obsessive planner, dreamer, and puppy mom. She grew up in the inner city of Compton, California, with her two sisters and mother.
From a young age, she loved writing in any form, from poetry and songs, to short story telling. Writing allowed her to overcome personal struggles and channel her passion for helping others. Her intentions are simple to help you Embrace.