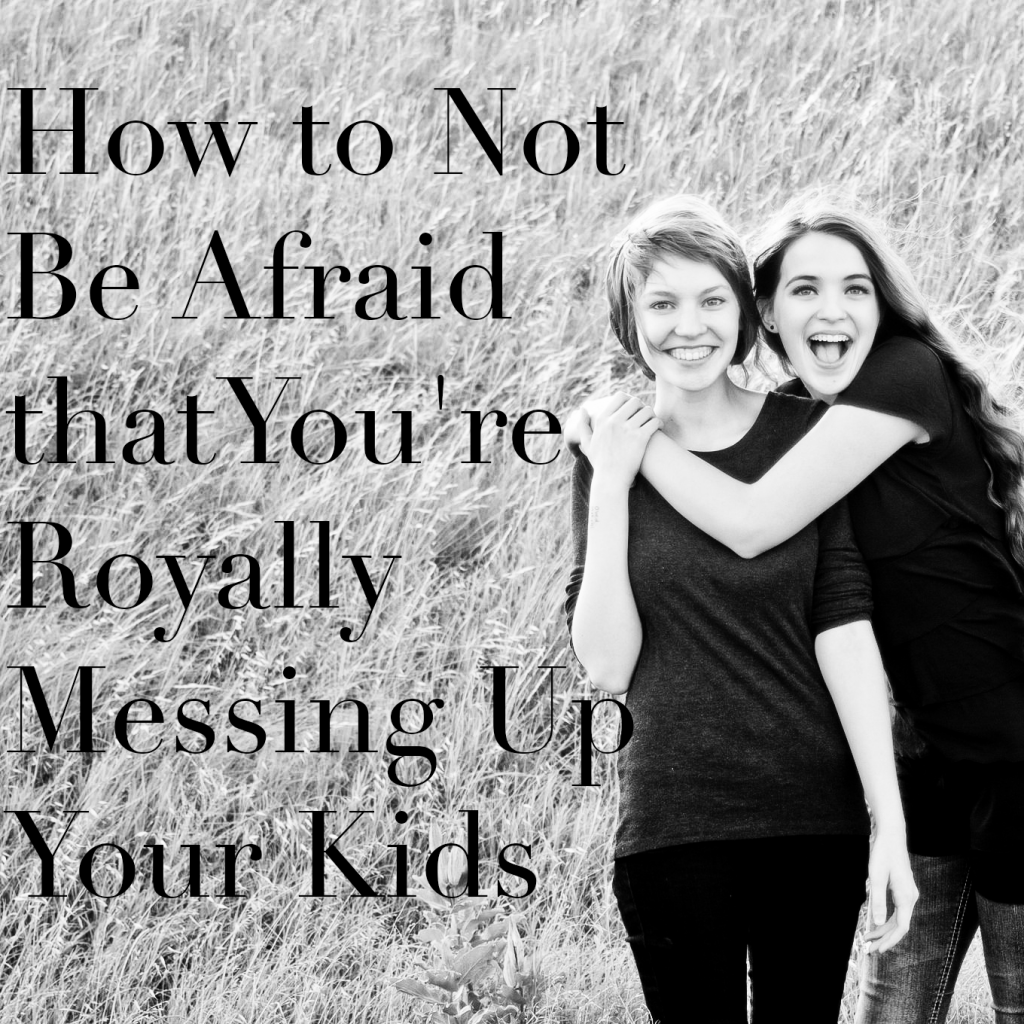 My oldest daughter turned 18 a couple months ago and, I don't know about you, but I've spent a lot of my mothering time scared that I was going to royally mess things up.
I have been terrified at times that my daughter would one day leave home and not care to come back or like me much at that point. I think it's a common parenting fear that the enemy tries to get us to dwell on but let's kick this one in the teeth today.
Here are a few things I have learned that have been so very helpful:
Apologize like crazy – humble yourself when you are wrong and ask for their forgiveness. You are not only setting an example for them but also making your relationship right again when  you mess up.
Deal with the stuff in your past that you are afraid of – If you made mistakes in the past and you are worried that they may have a long-term effect on your child (like feeling like you didn't spend enough time with them at some point, or you were especially critical, etc…), instead of continuing to worry about how that affected your child, talk to them about it. You may find that they don't feel that way at all or it may be an opportunity for you to make it right, ask for forgiveness and learn to meet their needs.
Find out their love languages and come up with a plan of action – Have them take the Love Language quiz online (for elementary school ages, preteens and teens) and then create a plan for yourself to minister love to them in the way they best receive it. Put specific ideas on your calendar if you have to. An example may be to mail a card and candy to your son whose primary love language is Gifts or clean your daughter's room for her if Acts of Service is at the top of her list. If you don't have the book The 5 Love Languages of Children I highly recommend it.
Let your kids tell you what they need from you – Lay defensiveness aside and ask your kids how you can do a better job to meet their needs (once a month or so). Kids like to talk about themselves and they often know what they want/need from you.  This will only help you to be close and more open with each other. Plus, this will teach them to do this with their future spouse and kids.  It takes humility to let someone else tell you where you could step things up.
Learn to love yourself and teach them to love themselves – One of the greatest hindrances to becoming a whole person is not loving oneself. Be a whole parent by loving yourself and therefore teaching your children to be whole by loving themselves (this is not a selfish love but an acceptance of who God made you to be and a gratefulness for your uniqueness). The best way to do this is to go on a journey to discover how much God loves you. Allow yourself the time and effort to come to understand how greatly you are loved. This will fill your love tank for yourself and then for others including your kids.  Also, take time to discover your strengths and gifts. Encourage your children to learn about their strengths and giftings as well. Model a healthy acceptance for the unique way God has made you and your children will learn to love themselves in the same way.
Don't let fear of messing up your kids have a hold on you – When we are afraid of something and act out on that fear we are often causing the very thing we are afraid of to happen. Talk to God about your fears and repent for believing the lies that the enemy tries to get you to believe. If you walk by faith and hope in your great God and His ability to heal relationships, mend hurts and fill you with love, then you cannot fail.  It's the lies that drag us down and keep us in that worried state where our actions are based on fear and that is what drives our children away.
Doing these things is another way that we can step out and be Brave Moms. When we don't let fear keep us from living life fully and moving forward (it's never too late to make a change), we overcome and will see great victories in our mothering.
Have you dealt with fear about messing up your kids? What's the thing you fear the most? Can you let it go today?
disclosure: this post may contain affiliate links for items that I really like and want to share.