Welcome! It's such an honor to have you here. I'm Kristin Lemus, wife, mom of 6 (and 1 in heaven), writer, speaker and conference planner for The Declare Conference. That all sounds like a lot and oh so fancy but I'm just doing my best to love Jesus and obey Him. We are probably a lot a like, you and I. I long to fulfill the call God has on my life to the fullest but I struggle a lot along the way. God gets way more glory through my weakness than my strengths.
He's taught me so much over the 18+ years I have been a mom. I've learned:
You already are a good mom. Even if you don't feel like it.
Just because it's hard doesn't mean you are doing it wrong
There are too many weary moms (and what we can do about it)
I've been working on launching Brave Moms for a couple years now and am still hopeful it will launch soon. I believe with all of my heart that God has equipped us all to be strong and courageous moms who are unafraid and believe without a doubt that God is always with us (Joshua 1:9). It can be tough to walk this out until we learn the weapons and fruit God has already given us to fight a courageous battle and be victorious.
This space here – The Beautiful Deep – is my space to share life and truth. I hope to encourage you and bless you while you are here.
In case you're still reading and want to know a bit more, here goes:
I live in the Dallas/Fort Worth area of Texas.  I'm 39 & have been married to my best friend for 19 years.  He's an amazing husband and father and we work hard to have a great marriage. We have a sweet little boy in heaven and 6 beautiful children that we serve here everyday.  Our children are ages 8 to 18 (with a set of twins in the mix).  We have one boy and five girls.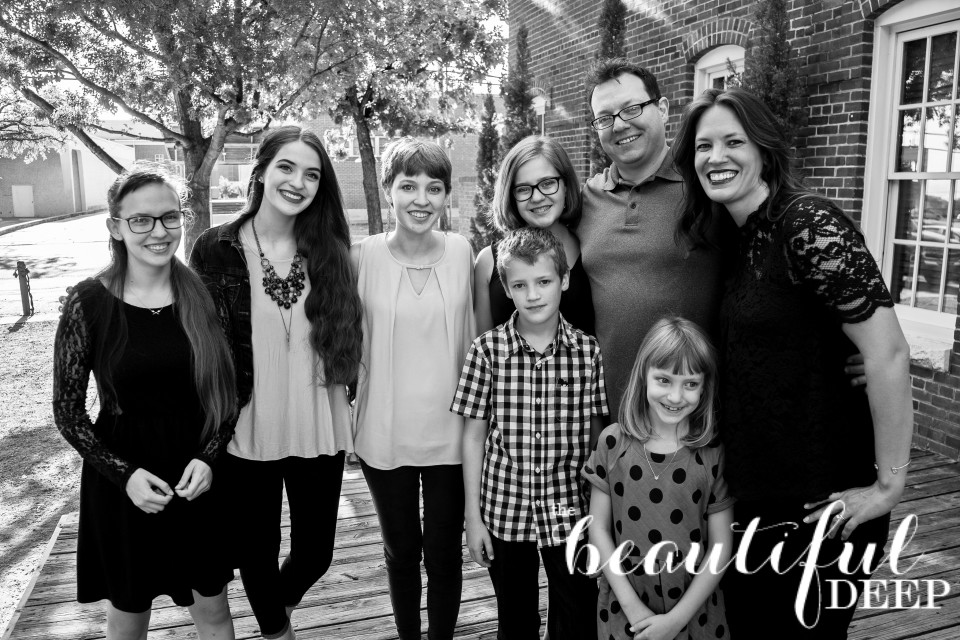 I'm definitely an introvert and love one-on-one conversations that go deep. Speaking to groups of women, about becoming who they were created to be, thrills me to no end.
I have fallen, madly, deeply in love with my savior and I cannot help but share about this journey.  He pursued my heart, answered my prayers for freedom and now I feel deeply honored to serve others on their journey in discovering His love.  My heart beats pretty passionately for moms who are "in the thick of it" and need to be encouraged.
As I mentioned above I am also a host for The Declare Conference, which is a conference for Christian women writers, speakers, bloggers and leaders. Our desire is to equip women to know God and make Him known.  I'd love to see you there!! I've also written an eBook for moms who have lost a baby called Empty Arms, Hope-Filled Heart. We lost our newborn son years ago and this book came out of my own healing journey during that time. It's a free download for anyone who wants it.
I always love hearing from you! You can always contact me or find me on twitter or Facebook.
AND in case you want to hear even more… I was on the Mom Struggling Well Podcast with Emily Thomas (Episode #21). I'd love for you to listen and it's a great way for you to hear my heart and a little more "about" me.