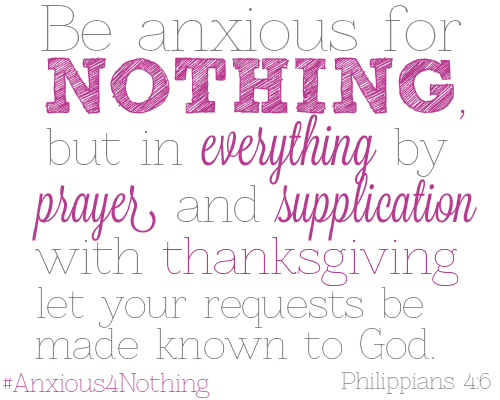 Hello friends! How are you? I'd really like to know!
God has been stirring my heart toward more faith and less fear in every. single. area. of my life.
He has been stretching me in ways I never thought I could be stretched.  Asking me to do things that require dying to myself and my fears.  It's crazy hard but it's also an amazing adventure that I know He is with me on.
One of the buttons God keeps pressing on me is "Be anxious for NOTHING." No thing. Not one.
It's a radical way of thinking and a completely new way to live considering that our society breeds fear and feeds on it (myself included).
So, with God's help I am taking Him at His Word that He is always with me and will never leave me.  I am taking my anxious thoughts captive and submitting them to this command to be anxious for nothing.
I'll share more about God's dealings with me on fear next week but I wanted to challenge you, on this first day of the month, to live beyond yourself in a place free of anxiety over anything.
My plan is to tweet daily about taking anxious thoughts captive and to see what God does in my heart over the month.  I'd love for you to join me if you wish and use the Twitter hashtag #anxious4nothing.
What have you been anxious or afraid about lately that you need to submit to your heavenly father?